For businesses today, e-commerce is an indispensable tool in brand development and increasing monthly sales. According to the reports of Finaria, the COVID-19 epidemic in 2020 has increased the number of users participating in e-commerce activities to 9.5%, reaching 3.4 billion people. The number is predicted to continue to grow by 2021 at 10%, reaching 3.8 billion people. And by 2025, this number will reach 4.9 billion people – What a huge number!
The above forecasting data shows us that this is the era of e-commerce. And participating in e-commerce is a must for every business.
Creating an eCommerce website that fits your business is easier than ever. We can have thousands of options to build an online sales website, but choosing the most suitable platform is the problem that needs to be solved. Two of the Content Management System (CMS) platforms for building eCommerce websites are WordPress and Magento, and we will learn about these two platforms to make the best choice for your business.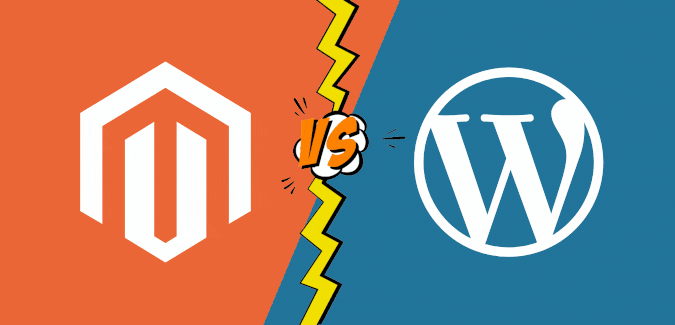 1. Learn about Magento and WordPress
1.1. WordPress – Blog Tool, Publishing Platform, and CMS
First launched on May 27, 2003, by Matt Mullenweg and Mike Little, WordPress is a free and open-source platform programmed in PHP language and using SQL database.
WordPress currently has 2 versions:
• WordPress.com is the free version (for individual users).
• WordPress.Org (business user) is the paid version.
As reported by Editors Choice, WordPress has a 36.9% market share on the internet located 2021. And if only websites are built with CMS platforms, WordPress accounts for 64.1% of them.
This shows how popular WordPress is in the internet world. Electronic sales functionality will be activated through the WooEcommerce Plugin – developed exclusively for WordPress users.
As a platform for blogging and free content building, WordPress also has more than 28% of users for e-commerce (according to Editor Choice data) through the number of WooEcommerce plugin users.
1.2. Magento – Best eCommerce Software for Selling Online
It is not natural that Magento thinks they are the best eCommerce building platform for online sales. First released in March 2008 by the Varien company, Magento is also an open-source programmed by PHP language and MySQL database, one of the most popular source codes on Zend Framework. Magento is an object-oriented programming language and uses the MVC model (Model-View-Controlle0072
Magento currently has 2 versions, including:
Community Edition (CE): free version
Enterprise Edition (EE): the paid version
According to the Tribunal Hosting report, Magento accounts for 0.7% of the internet market share and of which 12% are e-commerce websites or 1.2% of the websites use CMS.
2. Comparison between Magento and WordPress
2.1. Easy to use
WordPress
WordPress is a CMS platform built for users to create blogs and content, so it is a user-friendly platform.
The process of creating a WordPress website is also not difficult for beginners, with extremely simple operations.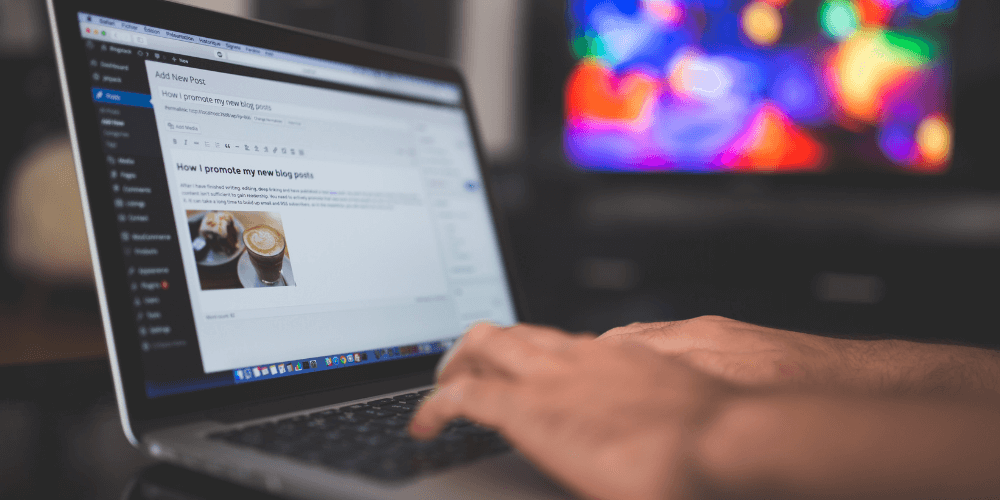 Using the free WordPress source code and using plugins (free and paid) with specific instructions from the vendors makes WordPress even easier and more popular.
Magento
Although it is also a PHP language, built to be the best e-commerce platform in the world, they require users to know programming knowledge to set up the website. A Magento developer needs to know the following skills:
– Have a solid knowledge of PHP
– Know the MVC model
– Know object-oriented programming
– Have a solid knowledge of object-oriented programming (OOP)
– Incorporate SQL Database
Developers also told each other that Magento is probably the largest but also the hardest system of the PHP language.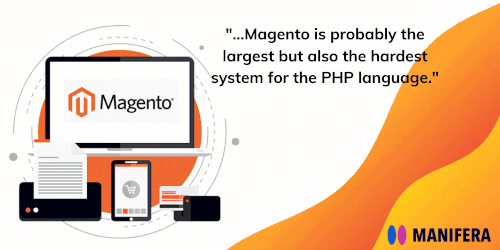 2.2. Suitable for e-commerce
Both WordPress and Magento are good source codes for e-commerce. WordPress needs to use the WooCommerce plugin to enable e-commerce functionality on the website, while Magento already has this functionality built-in.
WordPress
For e-commerce websites that do not need many features on the website, the number of products is not too much and the features like multi-store, multi-website, multi-languages, then WordPress will be the more suitable platform for your business. WordPress is also suitable for businesses with virtual services or products, which do not need to store much data, but mainly to introduce business services.
Magento
For e-commerce websites with a huge number of products (for example, 1000 products or more), Magento will be the most suitable choice. At this time, the website needs product management functions and the best warehouse, and the best data storage.
Besides, large e-commerce websites also need a lot of other features, such as:
– User management
– Payment in many different forms
– Provide customer care services in many different forms: direct message via fan page, social media, omnichannel strategy, etc.
– …
What happens if we use the WordPress platform for large e-commerce websites like above?
An e-commerce website has too many complicated functions, if we use WordPress, we must first review whether the hosting capacity is enough or not? With better hosting, your page load speed will be faster.
Each function of the website will correspond to a plugin. This shows, if an e-commerce website, in addition to adding a WooCommerce plugin, you also need to add the number of Plugins corresponding to the number of functions that the website is required. This requires website builders to spend time searching for plugins that match their requirements and usually pay a monthly fee for each plugin. Plugins usually have free and paid versions, but most developers will use the premium version because the free version is limited in many features.
Also, the use of too many plugins will affect the performance of the Website. It will slow down your website a lot for the following reasons:
– Multiple JavaScript and CSS in plugin
– Use multiple queries in the database
– Plugins take on overly complicated tasks
– The plugin uses the query outside the website
And the last thing to note, using too many plugins from different providers, the security of the website will fall into an alarming state. This will sometimes create security holes and the chance for hackers to attack the website is extremely high.
2.3. Suitable to develop Marketing content
If Magento outperforms WordPress in e-commerce features, then WordPress will outperform marketing content development. With the inception of WordPress as a support platform for blogging, WordPress will certainly be equipped with basic features to assist users in developing content for the website. Besides, the WordPress community supports a multitude of Plugins for users to develop content.
2.4. Support for users
WordPress + WooCommerce
WooCommerce and WordPress both have extremely large user communities. This is the community of developers ready to support them at any time. This is a significant boon for small businesses as they don't need to spend extra budget hiring a professional developer.
Each plugin you use that integrates with WordPress also has its technical support team from the plugin provider (including WooCommerce). Besides, WordPress and its collection of Plugins have lots of online references and tutorials for users. These online tutorials will tackle your common problems.
• WordPress support community (Forum):
Link to WordPress support forum
• Plugin library from WordPress:
Link to WordPress plugins library
Magento
Magento has a large community from all over the world to assist its users should they encounter any problems. You will get helpful advice from experienced developers and business owners setting up an eCommerce store through Magento. Magento also builds help centers/knowledge bases for its customers.
If you decide to use Magento Commerce, you will get full official support from them, including:
• Magento support community (Forum):
Link to Magento user community
Link to Magento supporting forum
• Sources of instructional materials from Magento:
Link to sources of Magento materials
Link to security guidelines for Magento users
Link to Magento technical resources
2.5. Ability to extend and developing websites
In terms of scalability and website development, Magento will do better than WordPress.
If the business of the company grows, the scale of the website must also develop and the number of products/services that your business provides to customers will increase.
Let's take an example where the initial product number of a business is 500. But after a year, due to favorable development and increasing customer demand, you have to expand your product portfolio to more than 1000 products. At this point, the WordPress platform may be increasingly unsuitable for businesses as not only has the number of products increased, but the number of vendors has also increased.
When choosing a Magento platform, you won't have to worry about this issue anymore. Like the basic features listed above, Magento allows businesses to expand more Stores, Websites, and many languages.
2.6. User Interface Design (Themes and Design Customization)
WordPress
WooCommerce offers unlimited customization for users. All plugins, themes, and extensions can be changed and coded to enhance the look and functionality of your website. This gives you greater control over the website's look and the ability to include unique features to meet your business needs.
Magento
Magento currently offers 11 other pre-made themes for your store on the marketplace website, with prices ranging from $ 0 to $ 499. Alternatively, you can visit Themeforest, Magenest, and Template Monster for more of the platform's feature-rich design options (for both Magento and WordPress).
This platform gives you access to unlimited customization options for your store's design, thanks to Magento's open-source nature. You can flexibly customize everything or create your theme from scratch without restrictions.
3. Which platform should you choose for your business?
It is necessary to define the role of the website for the business activities of the business to make an accurate decision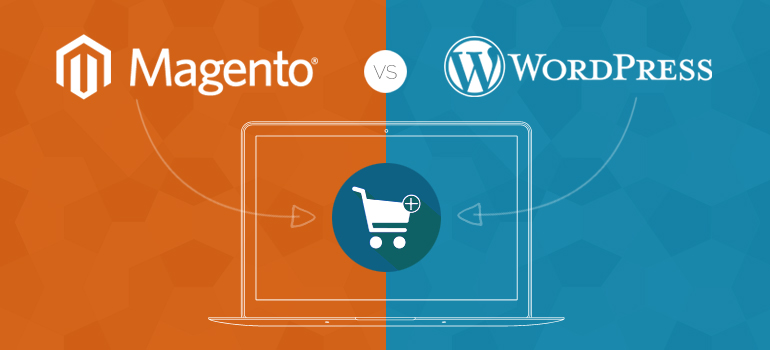 3.1. Creating direct revenue
Businesses need to determine the role of the website in their revenue performance. If the eCommerce website platform is the place that brings direct revenue to the company, is the middleman place to buy and sell products or services, or both, you need to invest a lot on the website.
At this point, in addition to the function of providing information and promoting the business to potential customers, the website also needs to have other important functions such as warehouse management, product portfolio management, providing many methods of payments, appointment scheduling, etc. If the features are just basic, without advanced features, then WordPress might be the right choice for the business. If the business needs to integrate many features into one website, then Magento will probably be more suitable.
If the business can consider all the features that the website needs right from the start and see what features can be developed in the future, the choice of an eCommerce platform for the website will not be a difficult issue.
3.2. A channel to reach customers
If your business website only serves as a channel used to reach and attract potential customers, then WordPress will be a better choice. At this time, the most important feature of the Website is to provide suitable content so that customers can leave contact information or direct contact for the business. WordPress and WooCommerce duo with massive plugin resources can help you compose and manage your content in the best way.
Summary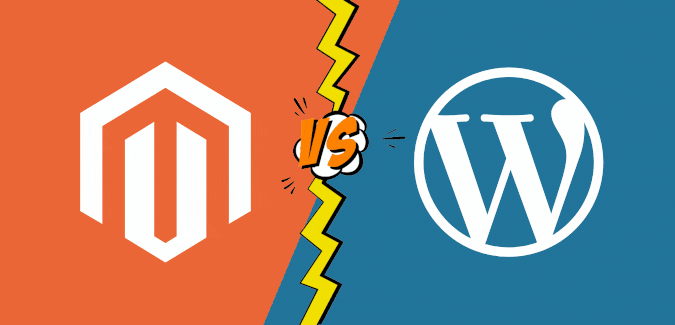 Article Name
Magento vs WordPress: Which platform for e-commerce in 2021?
Description
Two of the Content Management System (CMS) platforms for building eCommerce websites are WordPress and Magento, and we will learn about these two platforms to make the best choice for your business.
Author
Manifera Offshore Software Development Team
Publisher Name
Manifera Offshore Software Development Team
Publisher Logo