What is Headless ECommerce?
In recent months, the term Headless eCommerce has become more popular on search and news websites. The comparisons with Traditional Ecommerce have also taken place more often. So what is Headless Ecommerce?
Headless E-commerce is a platform where there is a separation between Front End presentation and Back End functionality. This is the biggest difference between Headless eCommerce platforms and Tradition e-commerce platforms, allowing businesses to focus on enriching the customer's experience on eCommerce without requiring changes on both Front End and Back End side.
How does Headless eCommerce work?
Headless eCommerce – It's All About APIs!
Adaptive Programmable Interface (API) will be the intermediary connecting the Front End and the Back end, allowing two independent parties to work with each other.
To put it simply, with traditional eCommerce website platforms the developers who want to change the Front End of a website are required to change the Back End of the website as well in most cases.
In the Headless eCommerce platform, developers can freely change the Front End experience without having to change any part of the Back End by calling APIs using RESTful.
What are RESTful APIs?
RESTful API is a method of creating an API with certain organizational principles. These principles are intended to guide programmers to create a comprehensive API request handling environment.
This is a flexible way to provide different types of applications and various features with data formatted in a standard way.
Reasons for choosing a Headless eCommerce solution?
Benefits of Headless eCommerce
1. Total Website Control
Decoupled Front End / Back End Architecture will help businesses control the website better. This allows businesses to easily create better content for the website without having to worry about the restrictions between the Front End and the Back End like the Traditional eCommerce Platforms in the past.
2. Invest less time in IT
As mentioned above, the Front-End and the Back-End are separated and not dependent on each other and are connected through the API system, so problems occurring at the Back End will not affect the Front End like the traditional eCommerce platforms.
3. Maximums support for marketing activities of businesses
The fact that there is no limit to developing user interfaces for the website on different devices such as computers, laptops, smartphones, smartwatches, etc., will be a huge advantage for the marketing of the company. Some of the strengths that Headless Websites can support for Marketing activities, especially Digital Marketing can be described as follow:
3.1. Apply Omnichannel Strategy
Businesses can build brand loyalty through Omnichannel Marketing. Omnichannel is the view of sales through multiple channels that can provide customers with a consistent experience between all these channels. Customers will experience buying online just like when buying directly in a store. This requires consistency between online business information from the product to the true color layout of the website as it is in a real store.
According to a Harvard University study, 73% of people use multi-channel to search for purchasing information, more than buying online through just one channel or going to the store directly. With unlimited permissions in user interface development, Headless E-commerce allows businesses to apply Omnichannel strategies in their marketing activities.
3.2. Increase conversion rates
When customers have the best shopping experience anywhere, on any device, their conversion rate (CTR) will certainly increase unconditionally. Of course, products and services must be good first, plus a good experience, the business will get a good conversion rate from customers.
3.3. Customize customer shopping experience
Headless eCommerce separates Front End and Back End is a great advantage for businesses to increase customer shopping experience in all channels. As mentioned above, a good and consistent customer experience in multi-channel and on different devices greatly affects the business performance of the company.
3.4. Create a Mobile-first Shopping Experience
As reported by DataReportal in 2021, there are 5.22 billion people worldwide currently using smartphones, accounting for 66% of the total world population. Thus, Mobile-first is becoming more and more valuable. Businesses are forced to use a Mobile-first strategy if they want to get effective in terms of sales. Headless eCommerce allows businesses to focus more on improving the user interface on mobile devices without any complaints from the development team that it is too difficult to implement.
This also means that the performance of the website on the phone will not be affected by the development team. Besides, creating a good experience on mobile devices will help businesses achieve higher ROI from Marketing strategies on Facebook, Instagram, or Linked In
Avoid the case of customers accessing the website from ads displayed on the platform but immediately turn off the website to measure the time to load the web for too long, which consumes the advertising costs of the business.
3.5. Easily enable Digital Marketing campaigns
Imagine, the Marketing department comes up with a really good Digital Marketing idea, and it will certainly bring profit to the business. But the software development department said it could not be done because the Landing-page interface design requirements were too difficult to do because of the required changes in the Back End as well. What do you think? Have you just passed an opportunity to make huge profits for the company?
Headless eCommerce can completely help you to solve this problem because the separation between Front End and Back End with the related APIs will make it easier to implement changes.
4. Future-Proof Your Company
Businesses can focus on investing in the corporate image on the website without any technical restrictions affecting the creativity of the company's development team. The website interface will change over time to adapt to the company's customers. Marketing campaigns will also always be upgraded to reach customers effectively. Businesses will always improve to fit the needs of their customers, so Headless eCommerce future-proofs your company!
5. Complete UX Customization
On traditional website platforms, Front End developers will take the Front End design and implement and offer solutions based on this design. If they make changes to the data or the user experience, they must change the Front End code and the database in the Back End. So, all these changes must be consistent with the Back End. This partly creates restrictions for Front End developers.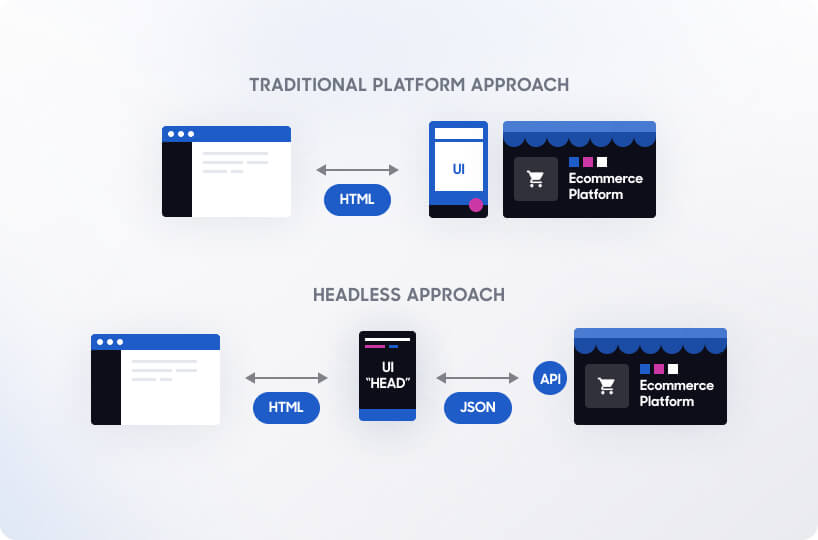 Headless eCommerce does not limit front-end developers. With the Headless platform, all Front End activities are separated from the Back End. Front End is the bridge between the great things that customers will see on the website with the code and database system behind it. They know what customers want to see from the business, and they deliver the best user experience possible.
6. Personalized Integration
This is 2021, customers will only want to work with businesses that truly understand their needs and wants. They tend to look for businesses that can provide them with the best experience of a product/service in the fastest and most timely manner. And these experiences must be applied mostly to smart devices.
In the past, meeting the needs of customer experiences through all touchpoint devices was really difficult because it required an investment of time, capability, and technology from the company.
Conclusion
By allowing businesses to change content and the look and feel on their websites without interfering with the Back End systems, Headless Ecommerce seems to be the future of eCommerce!
If you have any questions about Headless Ecommerce, do not hesitate to reach out via the contact form here, we will get back to you as soon as possible!

Summary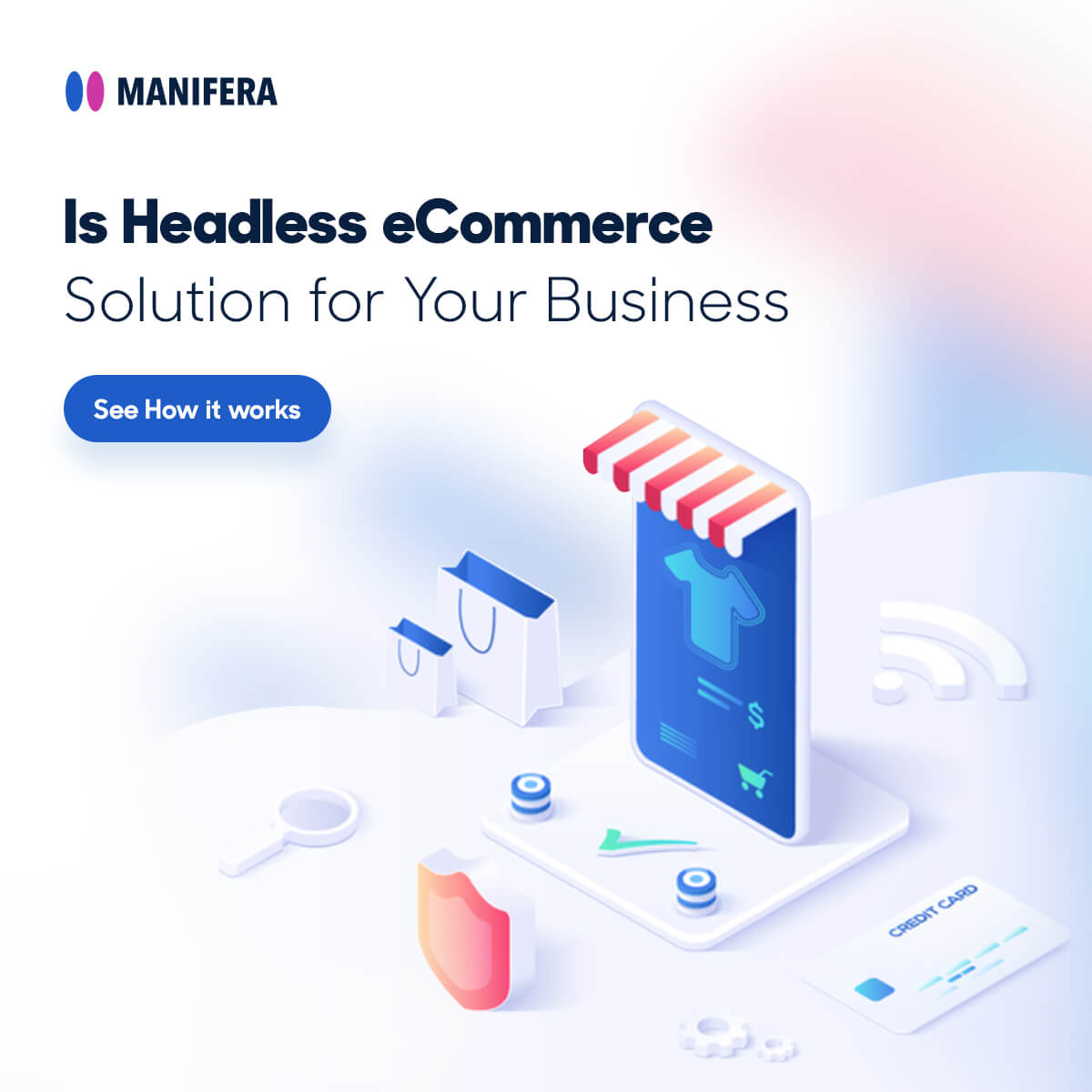 Article Name
Is Headless eCommerce Solution For Your Business?
Description
Headless E-commerce is a platform where there is a separation between Front End presentation and Back End functionality. This is the biggest difference between Headless eCommerce platforms and Tradition e-commerce platforms, allowing businesses to focus on enriching the customer's experience on eCommerce without requiring changes on both Front End and Back End side.
Author
Publisher Name
Publisher Logo