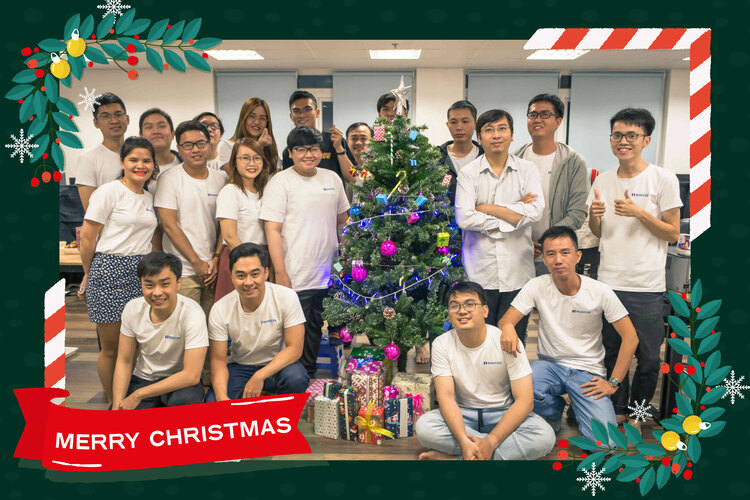 It's Christmas time, we welcome the quality time with our family and friends during this festive season. After our recent company trip to Vung Tau, Manifera also wanted to create a Christmas party for the team in order to create joyful and special memories for our colleagues. In addition to the purpose of welcoming the moment of Christmas, we also celebrated the birthday of four of our colleagues. Sounds interesting and worth the wait, right!
The First Session: Happy birthday to our colleagues in December 2020
We celebrated the birthday of 4 members by cutting a tasty cake and exchanging gifts. All of them were surprised and happy with the greetings from their colleagues.
The Second Session: Lucky draw for Christmas gifts
The Manifera colleagues each prepared a Christmas present for another colleague. The organizers collected these gifts, and hanged them in small gift boxes with numbers inside the Christmas tree. Via a lucky draw, colleagues got to pick a gift box from the Christmas tree. Many "ohs" and "ahs" were heard among the colleagues when opening their presents.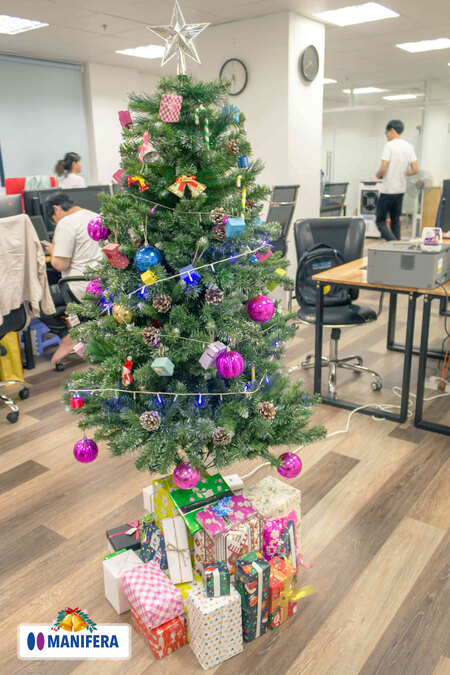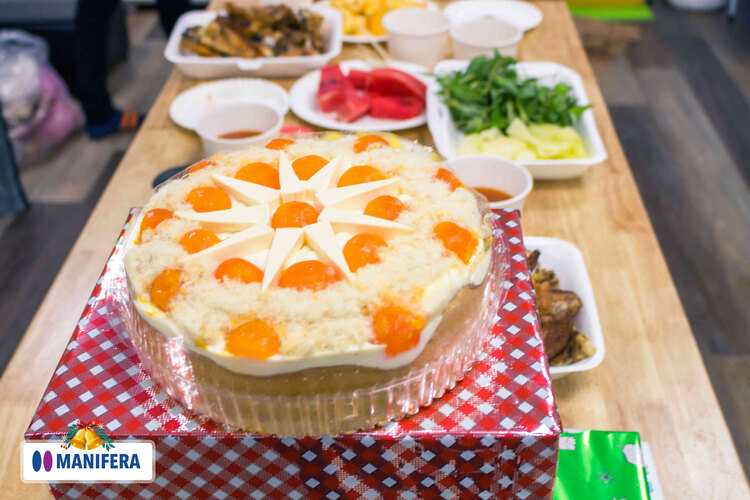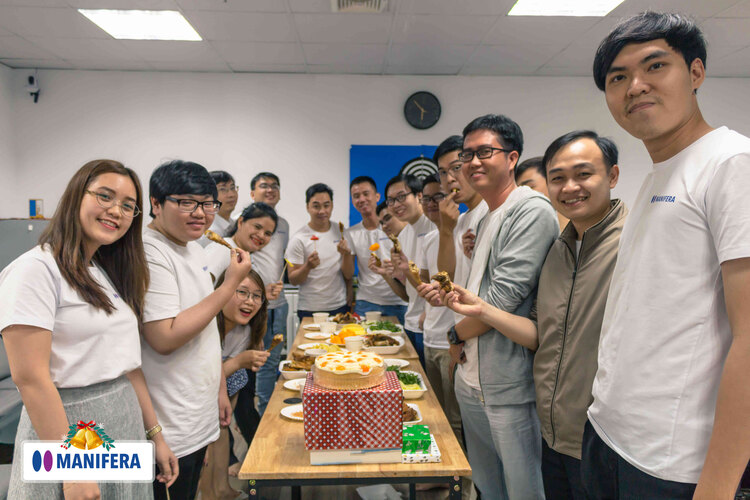 The Third Session: Draw a Christmas gift from Manifera.
Three lucky colleagues drew the special presents as prepared by Manifera and enjoyed these valuable gifts as well.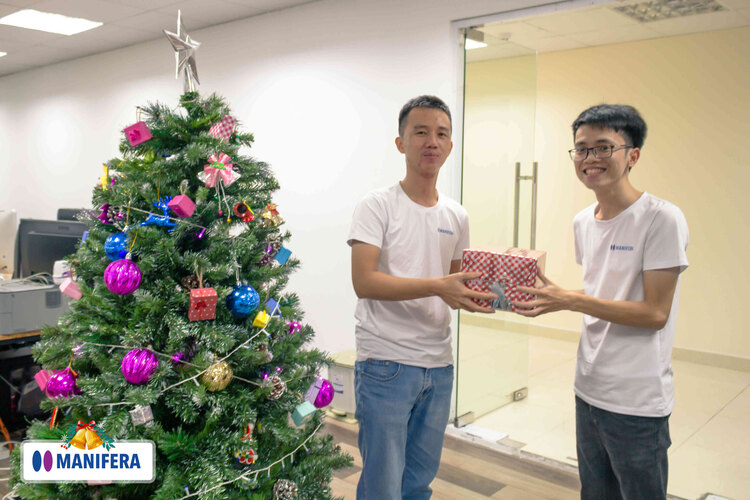 Last Session: Play Minigame
The Manifera colleagues were divided into 2 teams. Both teams will have to play 2 Minigames to determine the winner. The wining team is the one which wins both games.
The teams were competing during a dart game and during a game called "smashing flying balloons". The last game might need to explanation. For this game, each team had to bring a number of balloons from the start to the finishing line, and at the finishing line the balloons had to be burst.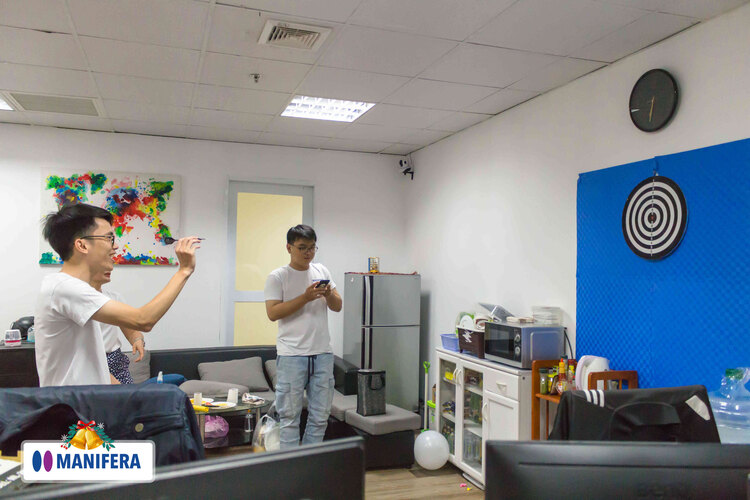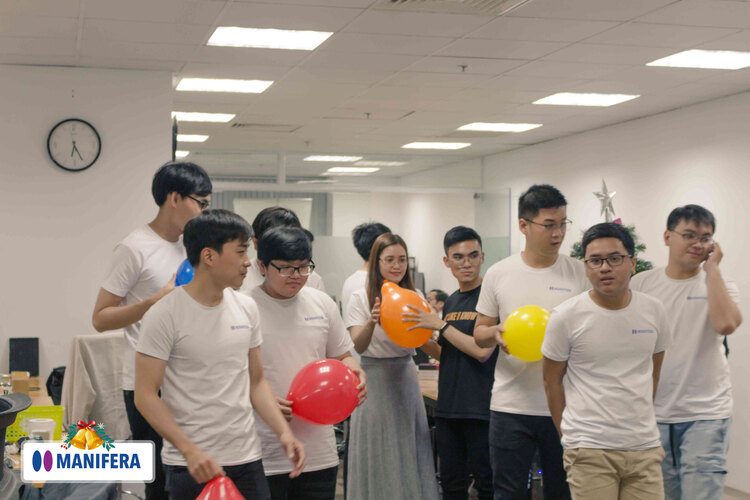 At the end of the party all the colleagues were really happy and felt very good and cozy being in the right Christmas mood and having connected with colleagues again.
Mr. Thanh – Product Manager – shared, "This is really a very meaningful Christmas event, helping to connect with our colleagues. In addition to the delicious food, the party also offers extremely interesting moments like exchanging gifts, while not knowing from whom I will receive a gift. The Minigames are very funny and create a lot of laughter for the colleagues. "
Mr. Qui – Developer Team – shared, "This is a very good party, especially at the end of a year like this. Everyone can feel the joyful atmosphere through the Minigame games. Very well-prepared and delicious food. Thank you to the management of Manifera for creating this warm and joyful Christmas atmosphere. "
Mr. Doanh – Developer Team – shared, "The party's atmosphere was really fun, everyone was extremely excited and enthusiast. The food was carefully prepared and very thoughtful. I have to work the next day, I hope next year Christmas party can be held around the weekend, then there is no work left and everyone will party longer."