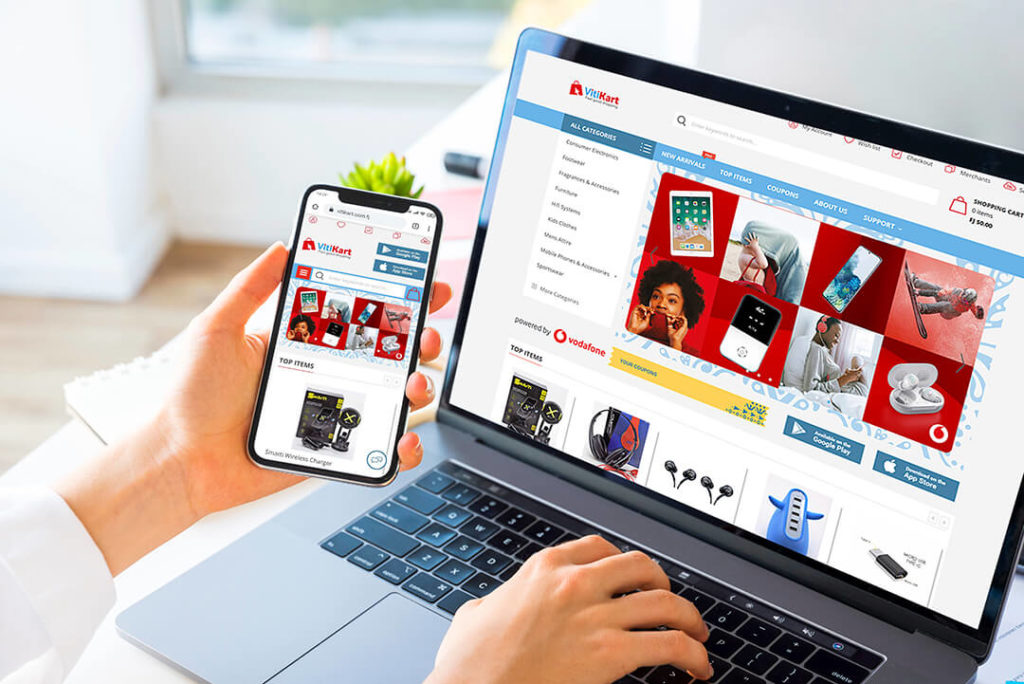 Nowadays with the evolving technology, eCommerce is thriving in every aspect of life, everything can be done online, people tend to shop online more and more often, and businesses should benefit from these trends.
Manifera proud to be the software development partner of Vodafone Fiji for the development of their eCommerce marketplace for Fiji! Vodafone has released the VitiKart App and Website just recently and has already onboarded many merchants to provide the Fijian people with a big selection of products, which they can easily purchase from their homes.
VitiKart is the first fully-fledged online Market place for Fiji and consists of a webshop and mobile apps for iOS and Android. Manifera has designed and developed the complete VitiKart platform after having won the e-Commerce challenge as run by the United Nations Pacific Financial Inclusion Program last year.
The platform is based on Magento and consists of the webshop, the mobile apps and a merchant portal and a portal for Vodafone. Integrations have been done with various payment gateways.
Sharing about the VitiKart project is Mr. Rizvi Amith – Vodafone Fiji – Manager Product Development & Digital Services:
"Vodafone Fiji selected Manifera Software Development Pte. Ltd. in Singapore and signed up an agreement to deploy a very important piece of our Digital Commerce Journey and this was to develop and bring to like an Online Market Place. Our mission was to create a shopping space for the Fijians and Fijians living aboard to be able to buy anything, anytime, anywhere using any device and pay for them with ease using Vodafone's home grown mobile wallet – MPAiSA or Visa or Master Cards. Bringing not only all of the top local brands together for the first time but also some big international names into one online platform.
So coupled with the expertise of both these teams and using some state of the art world class tools like Magento and Vodafone Fiji's Cloud Architecture we launched www.vitikart.com.fj
With this being successfully delivered together now we take this journey further with merging with international merchants and also making ways to expand VitiKart to the other pacific islands where Vodafone is present making this a #GameChanger for the entire south pacific islands."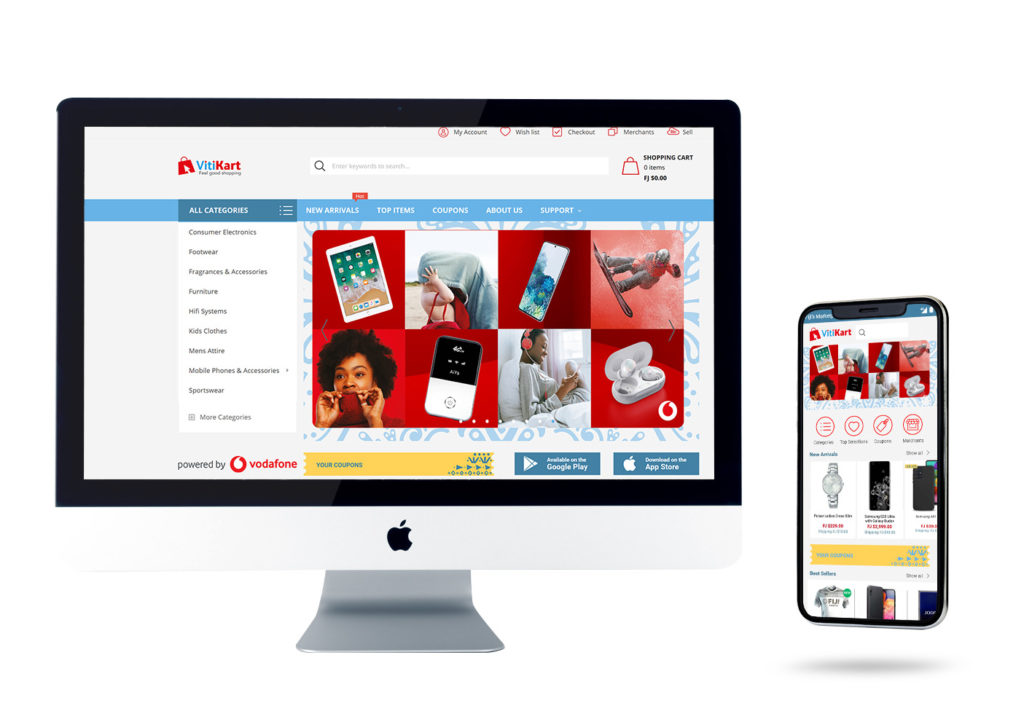 Sharing about the VitiKart project is Lan – Project Manager Manifera:
"The VitiKart development was a challenging project that requires wide e-commerce knowledge. When being awarded this project, the first feeling was that this was going to be a very interesting project, but also with a challenging schedule and a very complete set of features. Thanks to the great cooperation between the Vodafone Fiji team and our team, we released the VitiKart marketplace successfully on time with many appreciated merchants and customers. It is very pleasant and efficient working with the Vodafone team, they always give clear feedback and suggestions in a timely matter, which has helped a lot for the project to go smooth."
Sharing about the VitiKart project is Herre Roelevink – Director Manifera:
"We first met the Vodafone Fiji team last year in Singapore during a United Nations PFIP challenge kick-off. When talking about Vodafone's ideas of a marketplace, we could match this with our bespoke eCommerce software development services and experiences. Our journey started from their by submitting a proposal and based on that being invited for a bootcamp in Kuala Lumpur, Malaysia. During the bootcamp, where multiple solution providers we invited, we learned more about the requirements and wishes and the particular environment in Fiji. We fine-tuned our proposal and prepared thoroughly for our pitch on the last day of the bootcamp. At the end of that pitching day, we were very happy to learn that we were the winners for this Vodafone eCommerce challenge!
The next step in this project was visiting Vodafone in Fiji to kick-off of the project with further detailed requirements discussions and visits to a number of local merchants to get a good feeling of the needs and wishes of both the merchants and the consumers of Fiji. After that we initiated the Vodafone project team consisting of Magento 2.x developers, Software Architects, Quality Engineers, UI/UX designers and a Project Manager. And from there the VitiKart project started, whereby we started designing and developing the VitiKart mobile apps and the web shop. Despite the distance between our office locations and the Vodafone team being in Fiji, we had regular, efficient and pleasant communications along the whole project. Sure, we had our ups and downs, unexpected issues, a tight schedule, but the VitiKart eCommerce project team was always able to 'conquer' them with great motivation and perseverance!
My highest gratitude and appreciation to our Vodafone Fiji project members, the United Nations PFIP Fijian team and our Manifera VitaKart project team, for this amazing journey!"
If you interested in the VitiKart web shop and their mobile apps, please have a look here: https://www.vitikart.com.fj/
#Vodafone #onlinecommerce #shoppingexperience #digitalacceleration