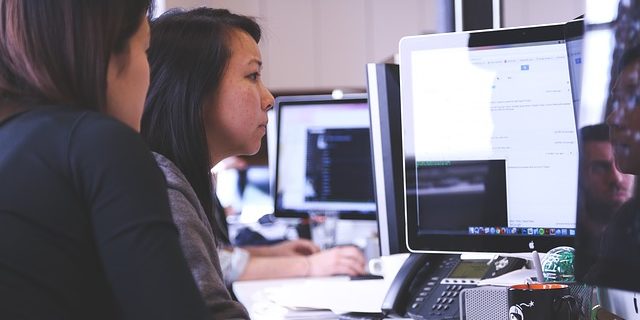 Even for Small and Medium-sized Enterprises (SME), technology is one of the most vital elements required for the success of a business. This is due to the fact that provides these businesses with access to great features which enables them to manage data flow, maintain employee records, improve customer support, enhance connectivity and tracking processes. All these amazing features enable you to be able to easily increase the efficiency and productivity of your business. There are numerous technologies that can be used to improve business and they range from servers and software, online tools, tiny flash devices to a computer. The choices are endless. Here are some technologies that SMEs should use for their business.
1.      DATA SECURITY
There are many forms of cyber attacks (ranging from malware, phishing, virus to insider attacks) that can cause serious damage to your business in any form. This is why data security is very important to protect your business from cyber attacks. Even in recent times, research has shown that only about 68% are using these technologies. And in some situations, the SMEs that do not have these protections can even be penalized.
This is why there are constant changes to data protection laws in recent times. So if you are an SME, you need to get data security. Even if you have just as little as 10 clients, if you do not have data security, you are vulnerable to cyber attacks. This is why you should invest in an advanced version of antivirus protection to protect your vital business data that is stored on networks. Other important security tools in data security include an antivirus program and a strong firewall.
2.      CUSTOMER RELATIONSHIP MANAGEMENT (CRM)
This is also considered to be a very important technology for SMEs and study has shown that just about 56% of SME businesses are currently using this tool. This tool makes sales management easier. It also enables businesses to identify high-value and low-value clients to set priorities, develop more personalized services and communication to increase conversion rates and to develop customer reward programs.
CRM integrates with your social media activity which allows you to organize and respond to all your social media communications. This helps to improve customer communication. It helps you respond to messages quickly and efficiently by unifying client and business information in one platform. It also allows the business to automate sending personalized responses to each customer so that they know that the problem is being handled. CRM is also used to monitor and evaluate the complete sales history. It will show you who purchased a particular product, when and how they paid and what issues or feedbacks they expressed. Without this, it will be very difficult to adjust the marketing strategy and make market projections.
CRM will also improve your data security. It will secure all your sensitive client data and financial data in a safe location.
3.      CHATBOTS
They are mainly used for facilitating customer support. Chatbots are computer programs that are developed to interact with people. Chatbots are considered to be one of the best examples of artificial intelligence. They are widely utilized by many businesses to improve customer support. SMEs often use chatbots as customer assistants that set the conversation through the text box. They offer access to details related to business, services, shipping, and locations.
Even though there has been a significant decrease in businesses that use chatbots for their business, it is still considered to be an important technology for SME businesses. A study has however shown that there will likely be an increase in the use of chatbots by SMEs in the coming years. Making use of this technological tool will help you improve your business and your relationship with your customers.
4.      WEBSITE IMPLEMENTATION AND IMPROVEMENT TOOLS
A recent study has shown that about 85% of potential customers often visit the internet to find businesses. This implies that it is very important for SME businesses to have websites and digital marketing strategy to handle the constantly growing number of online clients. If they fail to do this, they will lose a lot of potential customers as their business will be invisible to most people. However, there is no need to worry because even if you do not have a website before, there are a lot of options to choose from for both websites and content management that can help you fix this issue.
5.      CLOUD COMPUTING
In order to solve the problem of your house data filing system being strained too much and to protect your data, you will need to find a reliable cloud computing platform. This will also help you to properly save your business data. It will also make your organization more agile and scalable. This is why a lot of SME businesses consider cloud storage to be a critical component of SME businesses. Examples of cloud storage platforms that can be used by SME businesses are Dropbox, Microsoft OneDrive, Google Drive, Apple iCloud and Box.
6.      MOBILE APPLICATIONS
Due to the fact that most of the people in the world have smartphones that allow the download and use of mobile applications, SME businesses have now started using this to improve their business. A lot of SMEs are now using or considering using mobile applications for their businesses. This is a great way to improve your business as an SME. This is why mobile applications are considered to be important for SME businesses.
7.      INNOVATIVE PAYMENT SYSTEMS
In recent years, there have been a lot of new methods of payment that have been introduced and it is very important that you ensure that you are up to date with the latest payment method around. This will make it easier for your customers to purchase products from you without having to look for other payment methods. It is also reasonable to assume that customers that shop online will want to pay for the products in cyberspace too. There are a lot of reliable payment methods out there and some of them include PayPal, Payoneer and Microsoft Pay.
8.      EMAILS
In present times, Email is now considered to be one of the most important technologies that SMEs should use for their business. The use of emails allows SMEs to develop a good relationship with their potential customers by interacting with them on a regular basis. This is why the use of emails is a great idea for SMEs. It is also affordable and considered to be one of the most effective ways to improve your business. One of the main reasons why email marketing is so great is because of the fact that they are easy to compose and are cost effective. You can use this email to send a newsletter to your potential customers each week and whenever there is a new product or service available.