START WORKING WITH US
1. CONTACT US
Send us your information via email or phone and share your ideas or project details with us.
2. CONSULTATION & DISCUSSION
Based on the information received from you, we will prepare a plan and a budget estimation.
3. CONTRACT
Preparation and signing a contract after agreement. Together, we are drawing up a contract with overall terms, prices and project schedule.
4. REALIZATION STAGE
Our project team develops the software application and according to our Agile Scrum way of working, we will present you regularly with product releases, each time containing more functionality.
5. DEPLOYMENT AND SUPPORT & MAINTENANCE
Once your software is up and running, we perform Service & Maintenance and are always ready to add extra features to help you keep up with the fast-changing business landscape.
REALIZATION STAGE: AGILE SCRUM DEVELOPMENT
We use the Agile Scrum development framework, using among others Sprints and Daily Scrums. As a Customer, you have the opportunity to participate in each step of the process to achieve maximum effectiveness of your project. We will deliver each 2 to 4 weeks updates of your application, each time adding functionality. This way of working leads to short feedback cycles and at the end your application will be exactly according to your expectations!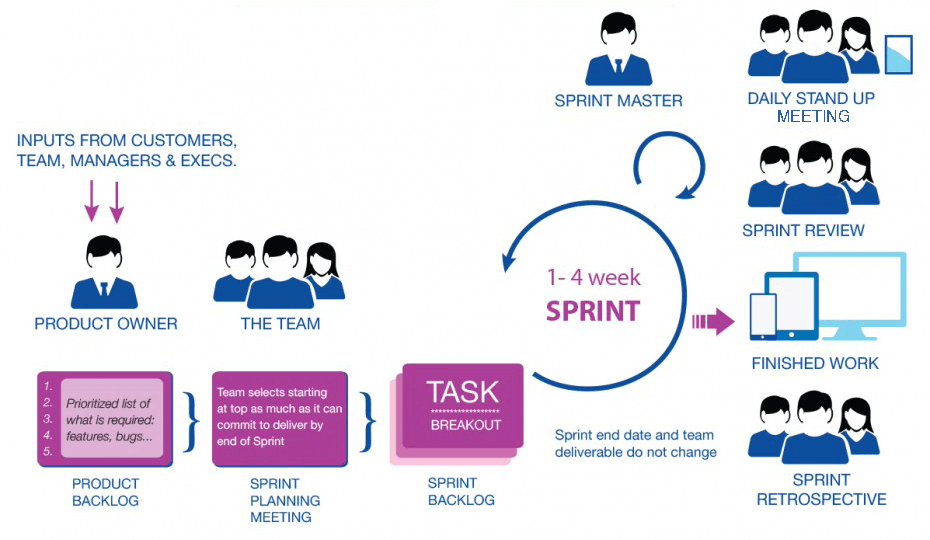 DEVELOPMENT TOOLS
Configuration Management: GitHub, Gitlab, Bitbucket, SVN.
Configuration Management: GitHub, Gitlab, Bitbucket, SVN.
Project Management: Basecamp, Trello, Pivotal Tracker.
Communication: Skype, Slack, Google Hangouts.
Issue tracking: Jira, Redmine, Easy Redmine.
If the tools you use are not mentioned here, don't worry, we are flexible in discussing using the same tools as you use as well.
FORMS OF ENGAGEMENT
1. Offshore Software Development Team
We are specialized in setting up a dedicated software development team for your projects at our offices. We take care of the general management of the team and provide the necessary equipment and tools. And you and your team can take care of the daily technical management of the team members.
For more information about your own Offshore Software Development team, please read further here.
+ Your fixed and own dedicated team of experienced software developers working as an extended team of your company.
– Enough work for the team needs to be available continuously to make this way of working efficiently. Although flexible up/down scaling is provided.
2. Vouchers
Vouchers for certain amounts of development hours per month can be purchased. Vouchers of 80, 120 or 160 hours are possible. Vouchers are paid upfront before the start of each month.
+ The amount of software development hours are committed by Manifera for the month it is purchased.
– It might not always be possible to indicate the number of development hours needed per month.
3. Time And Materials
The budget required is based on actually spent development effort and 'materials' costs (like software libraries). During the quotation stage, we will provide you with an indicative expected budget based on your ideas and requirements. You might want to use this engagement form when the requirements of your application are not fully clear yet.
+ You only pay for the real hours spent and 'materials' used.
– Even though we provide you with an indicative expected budget, the actually required budget might be significantly different from that.
4. Fixed Price Project
Based on your ideas and requirements we provide you with the budget estimate and the planning. As the name 'Fixed Price' implies both this budget and the planning stay fixed (if the requirements do not change significantly). The budget will be paid in parts linked to mutually agreed milestones.
+ Budget-related risk is out of your hands since the price will be as agreed upon.
– Normally this comes with a higher price to cater to unforeseen activities.
As a flexible company, it is possible to deviate from the above-indicated engagement models. Tell us your ideas about engagement, and we are more than happy to discuss further on this.
QUESTIONS & ANSWERS
We are an international software development company with offices in Singapore and Ho Chi Minh City, Vietnam. We have been growing rapidly over the last few years and are on course of continuing this growth. This enables us to help many more customers in a professional and flexible way with our team of experienced software developers. We have helped around 50 clients among which TNO and the Dutch embassy in Singapore and have successfully finished more than 100 projects. With our western management and many clients from around the world, we are well equipped to understand our clients from various cultures. This helps us to easily convert your ideas and requirements into software applications matching your expectations. Manifera is a full stack software development company as well as providing DevOps and Service & Maintenance services to our clients. We are specialized in Laravel+PHP and have experience in many more technologies like .NET, Ruby on Rails, AngularJS and React, just to name a few. Our services are provided in an environment based upon trust and mutual respect. As part of that we are transparent and clear on technical solutions and project status and progress.
In order to assure our clients of a strong protection of their projects, we offer to sign a Non-Disclosure Agreement (NDA) as a legal contract that doesn't permit disclosure of specific information within the project or information that parties can share with each other.
There are four types of engagement models provided by our company: Offshore Software Development team, Vouchers, Time & Materials and Fixed Price. Each of them is explained in more detail here.
If you want to start working with us or want to learn more about Manifera, there are a few easy ways to let us know about it:
We will revert back to you within 1 working day.
The company headquarter is situated in Singapore. Our second office is based in Ho Chi Minh City, Vietnam. You are always welcome to visit us!
Manifera provides software development services since 2014. The experience of our colleagues ranges from 1 to 20+ years.
With our processes in place, dedicated quality/test engineers and experienced software developers, we are always working on achieving the highest quality of our software deliverables possible. However, as no one is perfect, issues will occur. In such cases, we will solve the issue rapidly and to your full satisfaction.
If you want to be sure about the quality of our services, we are able to provide you with a pilot project first. Please contact us for more details.