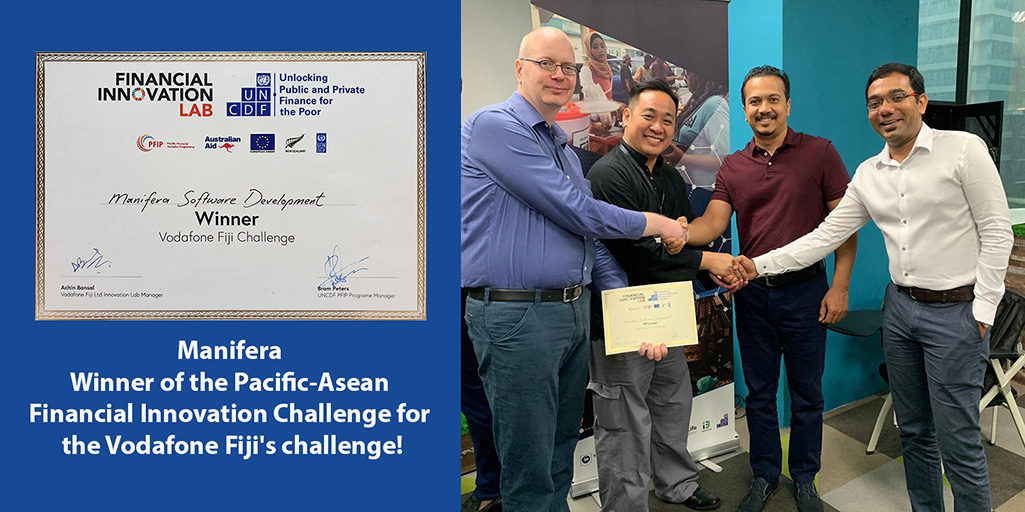 Yes!! Manifera is the winner of the Pacific-Asean Financial Innovation Challenge for the Vodafone Fiji's case!
This challenge was organized and supported by the Pacific Financial Inclusion Programme of the United Nations. There were four challenges related to FinTech, issued by companies from the Pacific Ocean. PFIP had organized a bootcamp in Kuala Lumpur, where the first selection of solution providers (out of 120) were three days heavily engaged with the challenge owners and the PFIP team, to prepare for a pitch on the last day of the bootcamp.
We were one of the solution providers, pitching for the e-commerce challenge by Vodafone Fiji. Our interactions with the Vodafone team and the PFIP team were intense, interesting and at the end of the day very rewarding!
Our solution for the e-commerce platform, will unlock access to products of local merchants to the people of Fiji efficiently and digitally savvy. A unique mobile-first e-commerce platform to cater for the high usage of mobile devices in the Pacific region. It was a great opportunity, perfectly organized by the UNCDF and PFIP and we are keen to drive this innovation into practice together with Vodafone Fiji!
Many thanks to Achin Bansal and Rizvi Amith of Vodafone, Bram Peters, Erica Lee and Amit Kumar of PFIP and David Kwan of Manifera and many others!