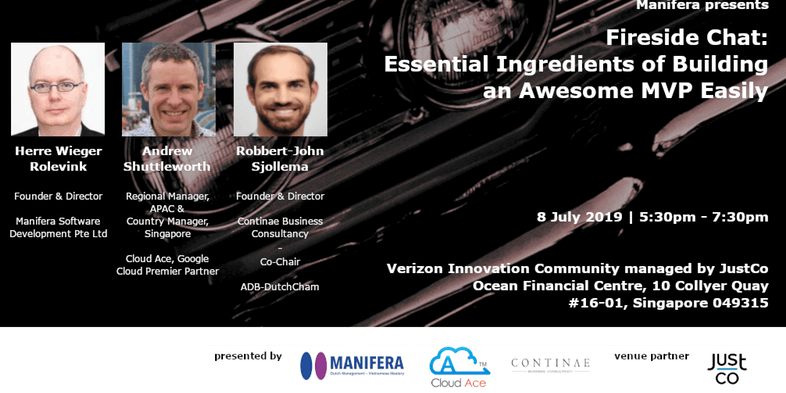 Essential Ingredients of Building an Awesome MVP Easily
Whether you are a startup working on your first product or building new offerings in your existing business, you are likely to be challenged by many variables and unknown factors during this crucial stage.
In this Fireside Chat session, as a startup, an entrepreneur and a business leader, you will hear from veterans and industry experts on how to innovate to leverage on existing resources at new angles and opportunities to build your MVP…. Easily and Quicky.
In this joint event, co-organised by Manifera and JustCo, some of the takeaways for you:
Uncover challenges of building MVPs & Overcoming them Quickly
Learn Practical Lessons from Veterans' Experiences
Access to Insiders' Expertise & Support for your MVP Now
Rethinking MVP and its Design from Marketing Perspectives
New Ideas, Applications and Network with Experienced Industrial Experts
The Program Agenda:
5:30pm – Registration and Pre-Talk Networking
6:00pm – Fireside Chat Session with Panel
7:00pm – Dinner and Networking
7:30pm – End
To All Startups, Entrepreneurs and Business Owners,
Join us Now for an evening of learning, exploring and networking for you and your business.
Location
Verizon Innovation Community managed by JustCo, Ocean Financial Centre
10 Collyer Quay
#16-01
Singapore, 049315
For event enquiries and other related matters, please email: david.kwan@manifera.com