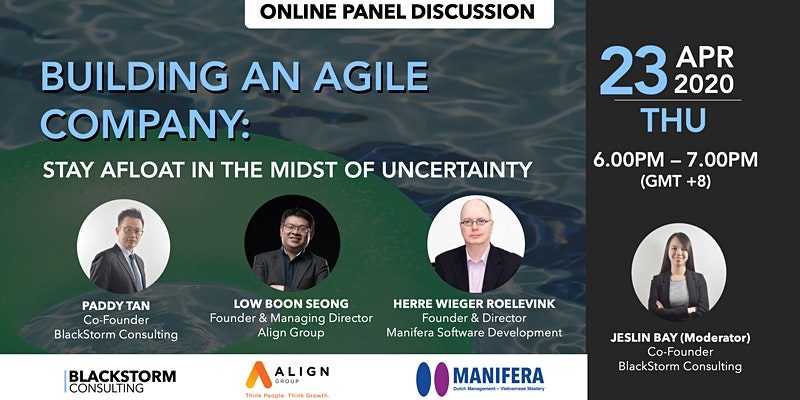 Building an Agile Company: Stay Afloat in the Midst of Uncertainty
This online panel discussion will give you a glimpse on how to adapt when the globalised economy that was abruptly shut down physically.
HIGHLIGHTS
As the COVID-19 outbreak accelerates globally and the economic outlook grows darker by the day, worries are heightening. In an unprecedented time, businesses are being forced to close by governments and many services are being ceased to minimise physical interaction. While the digital world remains active and workers are able to continue, revenue streams are choked by fear and an inability to continue providing normal services. Many entrepreneurs were hoping the situation would pass quickly but a global escalation has left them wondering how long they can continue waiting.
In this talk, you will gain insights on:
How to pivot a business model to preserve revenue inflow?
How to make HR decisions in this uncertain economy?
What to do to facilitate digital transformation effectively?
WHO SHOULD ATTEND?
– Business owners who are affected by the changing political measures
– Business owners who are being forced to transform their business digitally
– Entrepreneurs who are facing challenging decisions in the midst of this crisis
– Investors who would like to identify winning strategies of businesses
PROGRAMME AGENDA
The online panel discussion will be conducted in English.
1800 – 1805 | Welcome remarks: BlackStorm Consulting
1805 – 1850 | Online panel discussion: Building an Agile Company – Stay Afloat in the Midst of Uncertainty
1850 – 1900 | Open discussion
PANELISTS
Jeslin Bay (Moderator), Co-Founder, BlackStorm Consulting
Business Consultancy, Structuring, Scaling, Market Entry in Southeast Asia
Paddy Tan, Co-Founder, BlackStorm Consulting
Business Consultancy, Structuring, Scaling, Market Entry in Southeast Asia
Boon Seong Low, Founder & Managing Director, Align Group
Human Resource Consultancy, Workplace Happiness, People Strategy, Change Management
Herre Wieger Roelevink, Founder & Director, Manifera
Custom Made Software Development, Blockchain, Offshore Team Management
ABOUT BLACKSTORM CONSULTING
BlackStorm Consulting (http://blackstormco.asia/) is a Singapore-based boutique growth consultancy firm that specialises in corporate strategy, profit management and investment management. We scale businesses in Southeast Asia. Our clients and connections are internationally present and range from small and medium sized businesses, MNCs, to government agencies.
ABOUT ALIGN GROUP
Align Group (http://www.aligngoc.com/) is the fastest growing people-focused management consultancy helping fast-growing enterprises in transformation for growth. This is achieved through a combination of Human Capability Development projects and HR solutions to maximise performance and potential of your people. Our goal is to support companies create sustainable productivty, strong alignment and to bring the best out of their teams, thereby transform their human capital and grow their business. Over the years, we have serviced more than 100 SMEs with high service ratings, and with many of them remaining as our business partners in their growth journeys.
ABOUT MANIFERA
Manifera (https://www.manifera.com) is an international software development company. Working with SMEs and MNCs from Europe, USA and South East Asia and with a team of experienced software developers and quality engineers, she provides clients with Offshore Software Development teams and custom made software application development services.
To expand your company's software development capacity in an easy and cost-effective way, Manifera can provide you with a team of software developers who act as your own extended team. You will have full control of the developers and you will work with the developers directly and daily.
With custom software development services, Manifera helps you design and develop the right software application for your business needs, based on your requirements and ideas, with developing web applications, mobile applications for iOS and Android and desktop applications.