At Manifera, every quarter of the year we celebrate the birthdays of our team members. And on Mar 31, we held a birthday party for the members who have birthdays in January, February and March.
The birthday party took place with a lot of fun and many birthday gifts were given to the members. Besides, food and cake were also prepared to make the party more complete.
At the beginning of the party, there was a musical performance performed by two of colleagues. The song is titled "Happy Birthday to You" (aka "Khuc Hat Mung Sinh Nhat" in Vietnamese). This is a famous birthday song in Vietnam. All members enjoyed this excellent performance.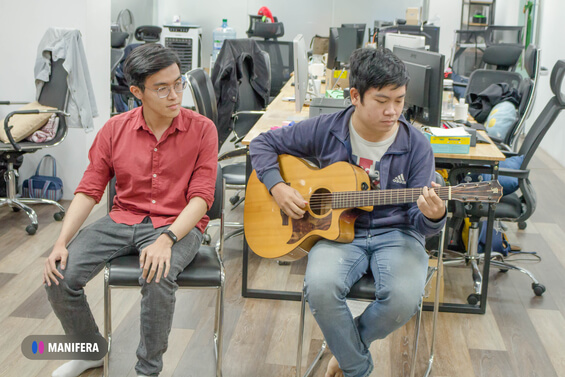 Then, we exchanged the gifts for the birthday colleagues. Congratulations on your birthday!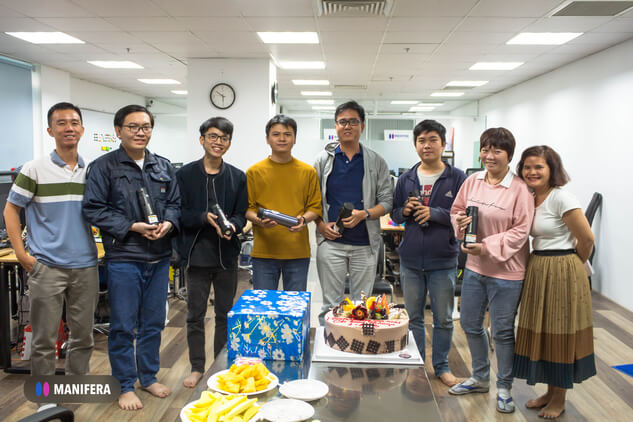 Of course, the most important part are the games, which are extremely fun like in previous events. We enjoyed our best through fun and exciting teamwork.
The first game is "Tic Tac Toe" Game. Make no mistake, this is not a simple "Tic Tac Toe" Game as you know it but a combination of 2 games "Tic Tac Toe" and "Bottle Flipping". "Bottle flipping" – a trend on Tiktok lately, is an act that involves throwing a plastic bottle, typically partially full of liquid, into the air so that it rotates, in an attempt to land it upright on its base or cap. Instead of using water bottles, we replace them with empty paper cups. To be able to go one turn, the player must toss a paper cup, so that when it lands, the paper cup is still standing. The winner will be the first to convert to a row of 3 consecutive lines.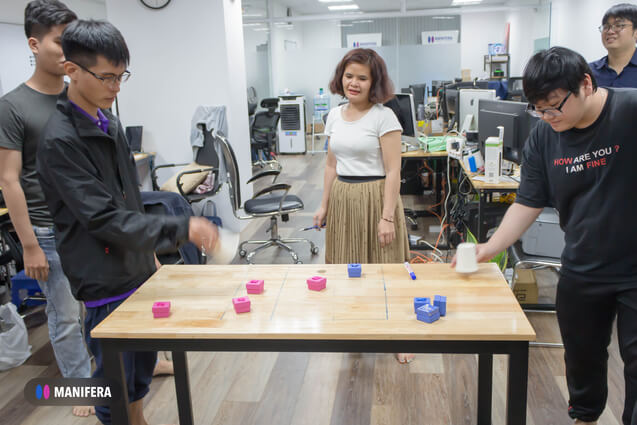 The second game is "Glass Road Trucker". This is a very new game found by one of our colleagues. There are 2 teams. Each team will send 3 people to join the game. The game uses ping pong balls and a row of 4 paper cups filled with water and an empty paper cup at the end of the row. The player will blow the ping-pong ball so that it rolls over the row of glasses with water and falls into the empty cup at the end of the row. The team that finishes three innings first, will be the winner.
This is a really tough game as it takes a long time to come to a winning team. Everyone feels very excited to participate in this game!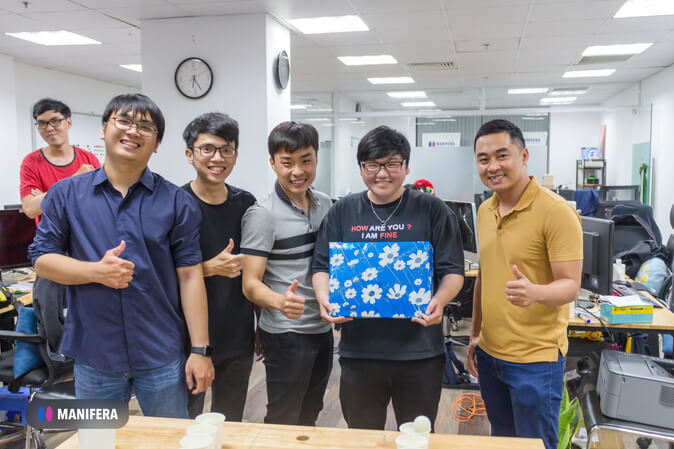 Ending the birthday party full of joy from all the members, Manifera hopes the upcoming events will bring even more joyful and fun moments!